Coinbase CEO bans social activism and politics from the workplace
Coinbase CEO Brian Armstrong says "stick to the mission" or get fired, bans social activism and politics for nearly 1,200 employees globally.
Michael Jordan, with a net worth of over $1.6 billion, was famously quoted saying, "Republicans buy sneakers, too," when asked why he didn't engage in more social and political issues. It's common for famous celebrities, public companies, and high-flying tech startups with bold IPO aspirations to remain apolitical on social justice issues. But today's climate is different.
This June, Michael Jordan made the biggest donation of his life, setting aside a total of $100 million for non-profits fighting for social and racial equality. Amazon, with over 26% of its workforce being black, donated $10 million to the ACLU. Nike (NKE) took a multi-million dollar bet on Kolin Kaepernick after NFL owners conspired to blacklist him for taking a knee during the national anthem to protest racial injustice, and their stock hit record highs—increasing $26 billion in value. Nike's first ad campaign featured a close-up of Kaepernick's face and the tagline, "Believe in something. Even if it means sacrificing everything."
Tech Companies
Apple, the largest tech company in the world, had no problem stepping up and speaking out against the police killings. Tim Cook, CEO of Apple, mentioned the name George Floyd multiple times in a blog post, "Speaking up on racism." After years of pushback, Facebook finally removed ad targeting based on race, and hundreds of employees have quit in disgust after Facebook continued to turn a blind eye to hate speech on the platform. PayPal, Apple and YouTube pledged $730 million collectively to fight racial injustices. All these mature tech companies know they must be held accountable throughout their entire product cycle and human supply chain in order to have a cohesive culture and sustainable work-life balance for employees who make critical decisions daily.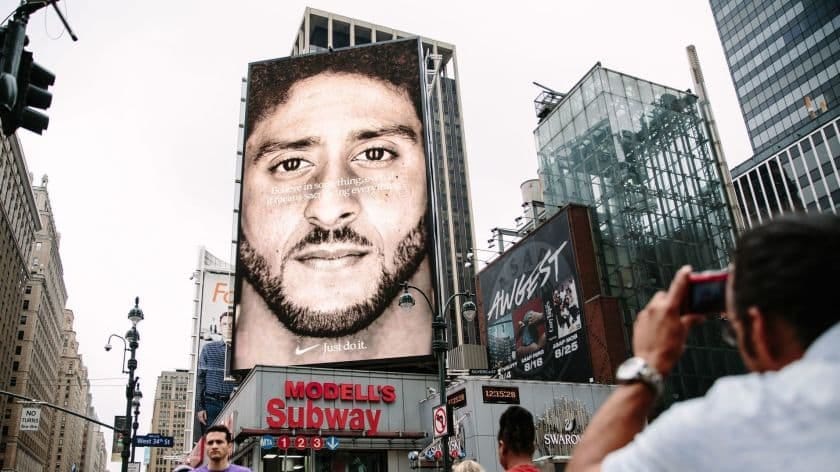 Coinbase
Brian Armstrong, the CEO of the largest U.S. exchange Coinbase, has received a lot of attention this week. The New York Times reported Coinbase rejects social activism, followed by Newsweek, and the Verge. I even wrote this on our Redeeem blog with a little bit of outrage. Brian, a 37-year-old white male, with a Board of Directors run by eight men and one woman (0 black executives), stated this week that their multi-billion dollar crypto empire of Coinbase will not be engaging in any politics, and they will ban any social or political activism expressed in the workplace. They are banning the discussion of political candidates and even voting practices.
Coinbase already has a black eye from selling 13,000 customers' data to the IRS and repeatedly shutting down trading when Bitcoin price gets volatile, but this one has far more impactful implications for years to come.
Let's start with this doozy of a blog post where Brian says, "we are an intense culture and we are an apolitical culture." He goes on by saying, "even if we all agree that something is a problem, we may not agree on how to actually go solve it," and suggested that the best solution would be to urge employees to "focus on building" and not engage in any creative or cultural discourse. He went as far as banning all Coinbase employees from debating political topics or candidates, sharing personal beliefs, or discussing Black Lives Matter. He followed up with another mass email and then a well-thought-out Medium post, followed by a virtual interview with CoinDesk journalist Pete Pachal, who helped fan his bigotry.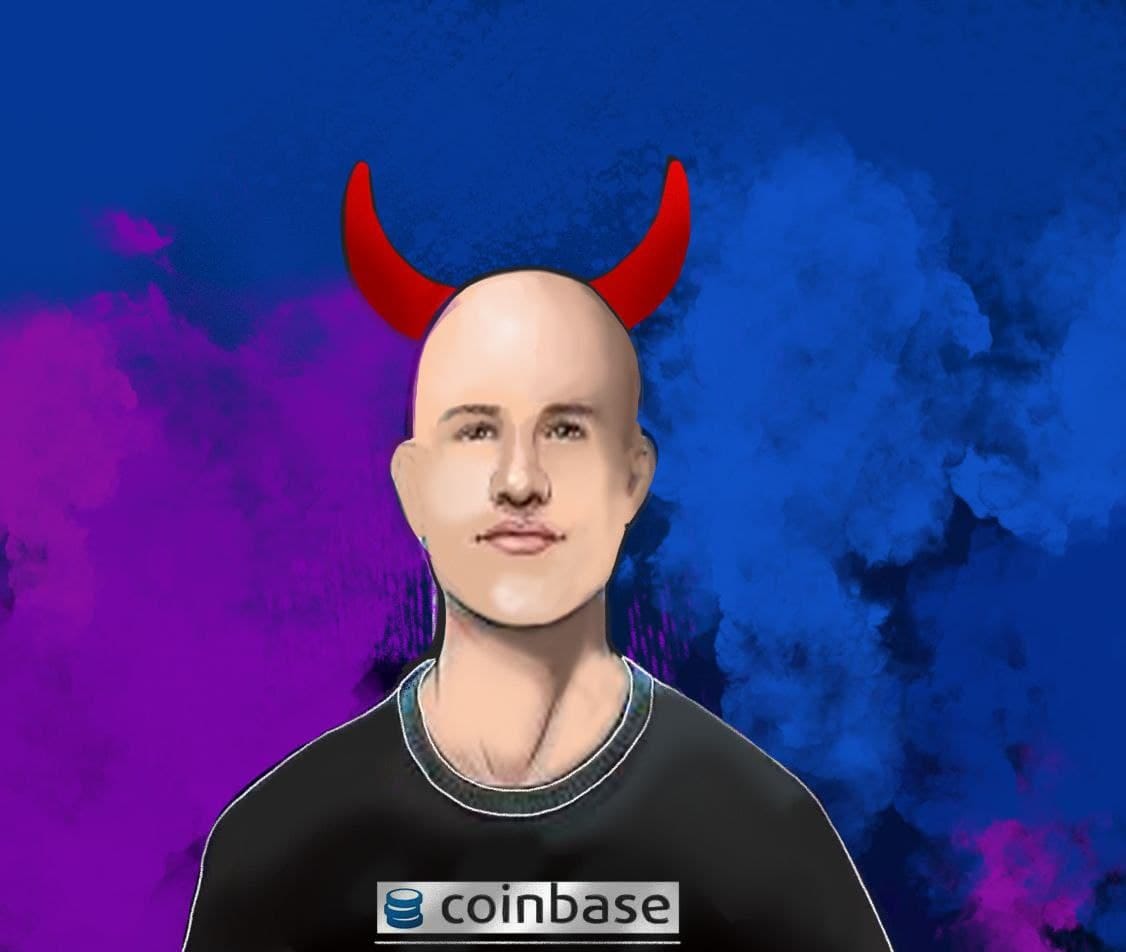 In his writings, Brian ordered nearly 1,200 employees to essentially "stick to the mission" or "find another job." The company is offering quick and dirty severance packages to anyone who disagrees with the new apolitical direction. Brian wants no part in civil rights activism at Coinbase and said he would "not engage in broader societal issues," despite having over 13 million users worldwide with six offices across four countries. Coinbase will be hosting an "ask-Brian-anything forum" on Thursday if any staff members have questions about their shift away from… well, culture. I'm sure staff will feel welcome in this meeting after the company's leader described its culture as being "intense and apolitical." What a mess.
According to Coinbase's mission, Brian wants to "build an open financial system for the world," and also lists "lifting billions out of poverty" as a main objective. The level of hypocrisy here is laughable. Coinbase is easily the most expensive crypto exchange in the world; they raised fees 233% for its poorest users right before the COVID-19 pandemic, all while lowering fees for its wealthiest institutional traders. They regularly kick off anyone who trades from peer-to-peer (P2P) exchanges, and they require you to have a bank account to use Coinbase, excluding the unbanked. Police have killed 781 people in 2020, and black people are killed at 3X the rate of their white counterparts. Brian's true objective is to increase the $8 billion valuation of his startup so they can IPO and make everyone wealthy.
White Supremacy
Last night, Donald Trump was unable to disavow white supremacy on national TV after moderator Chris Wallace's direct question. It was the most shared clip of the Presidential debate. It was as much about what Trump didn't do as what he did that vowed his support for white supremacy. Trump is a white supremacy enabler, and it won't be long before Brian is following in the same footsteps.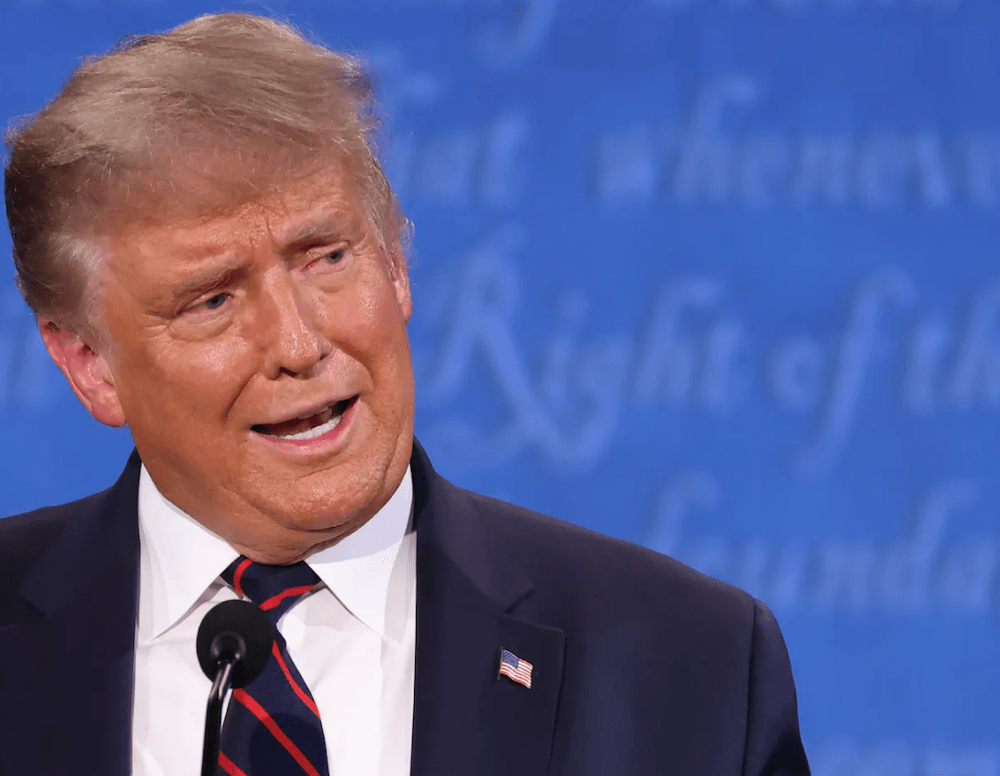 I'm not calling Brian Armstrong a racist, but I'm not not calling Brian Armstrong a racist either. His cowardly approach to apolitical correctness at Coinbase is rubbing salt in the wounds of the recent killings of Breonna Taylor, where a sham ruling by the Kentucky courts allowed, yet again, no charges to be made against any Louisville police officers responsible for the death of an innocent black woman. To call these issues a "distraction" exposes his core mission as the dogshit dogma at Coinbase that rots their brand and culture. Brian links to GiveCrypto charity on his Twitter and they donate 1% of their profits to their non-profit arm. This is probably a nice tax write-off for them, and now they feel entitled to take a permanent vacation on every other incredibly important social and political issue that we are dealing with in our country, and proactively take a vacation on all future activism as well.
Chicago Bulls
In his blog post, Brian compares himself to Michael Jordan, referencing his decision not to give a damn about race and politics at Coinbase, and idolizes his tech team as the Chicago Bulls. You can't make this stuff up. Maybe Brian forgets that Dennis Rodman played for the Bulls, and he "shared personal beliefs" more than a few times during their multiple championship runs. Culture builds character.
Michael Jordan and Tim Cook, two individuals who succeed under immense pressure with companies far bigger than Coinbase, found the time and money dedicate towards fixing some of these cultural and political issues that plague our country. Brian, is your work intensity so much higher than that of Apple, Michael Jordan and Dennis Rodman? Can your team not be bothered to help people who have nothing to offer you in return? C'mon, find the humanity.
Phil Jackson, coach of the Chicago Bulls, never offered a severance package to Dennis Rodman or showed him the door. Rodman was social, Rodman was political, Rodman was controversial, and Rodman was also a 5x World Champion and Hall of Fame player that other teams feared, despite averaging 7.3 points in his career.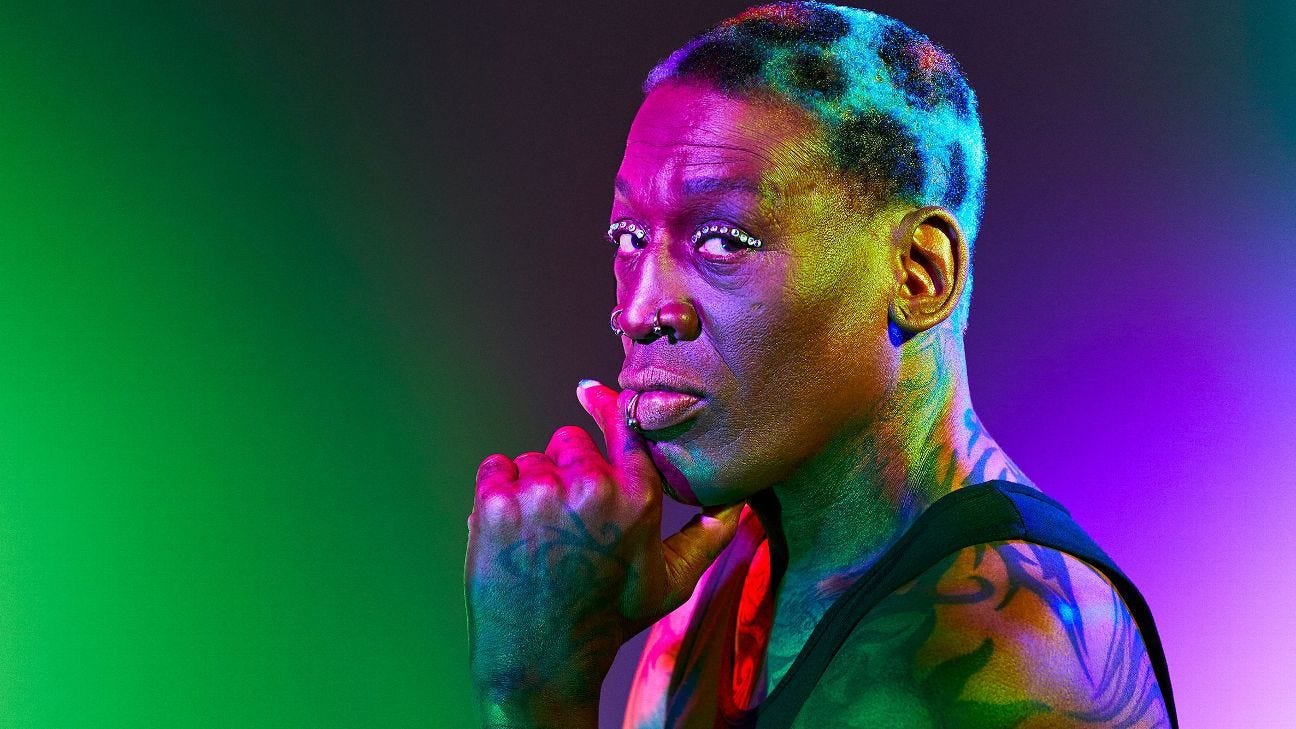 U.S. Poverty
I grew up in Ohio. I played in many soccer tournaments in Louisville. I remember my dad pointing out the Confederate flags on all the houses as we drove through some of the rural neighborhoods. This was a common fear only a few of the minority players on the team understood. In Ohio, black people represent 14% of the total population, but over one-third of the people in poverty are black.
Nationally, about 12% of Americans are black, but black Americans make up more than one-fourth of the nation's poor population. Over 34 million people live at or under the poverty in the United States, and black people have roughly the same chance of experiencing poverty regardless of whether or not they were poor as children. The systemic system of oppression is poverty and it eats up its victims like quicksand. Anyone not drowning in quicksand has privilege, and it's not a bad thing. It's only bad if you choose not to lend a hand with all your infinite resources above land.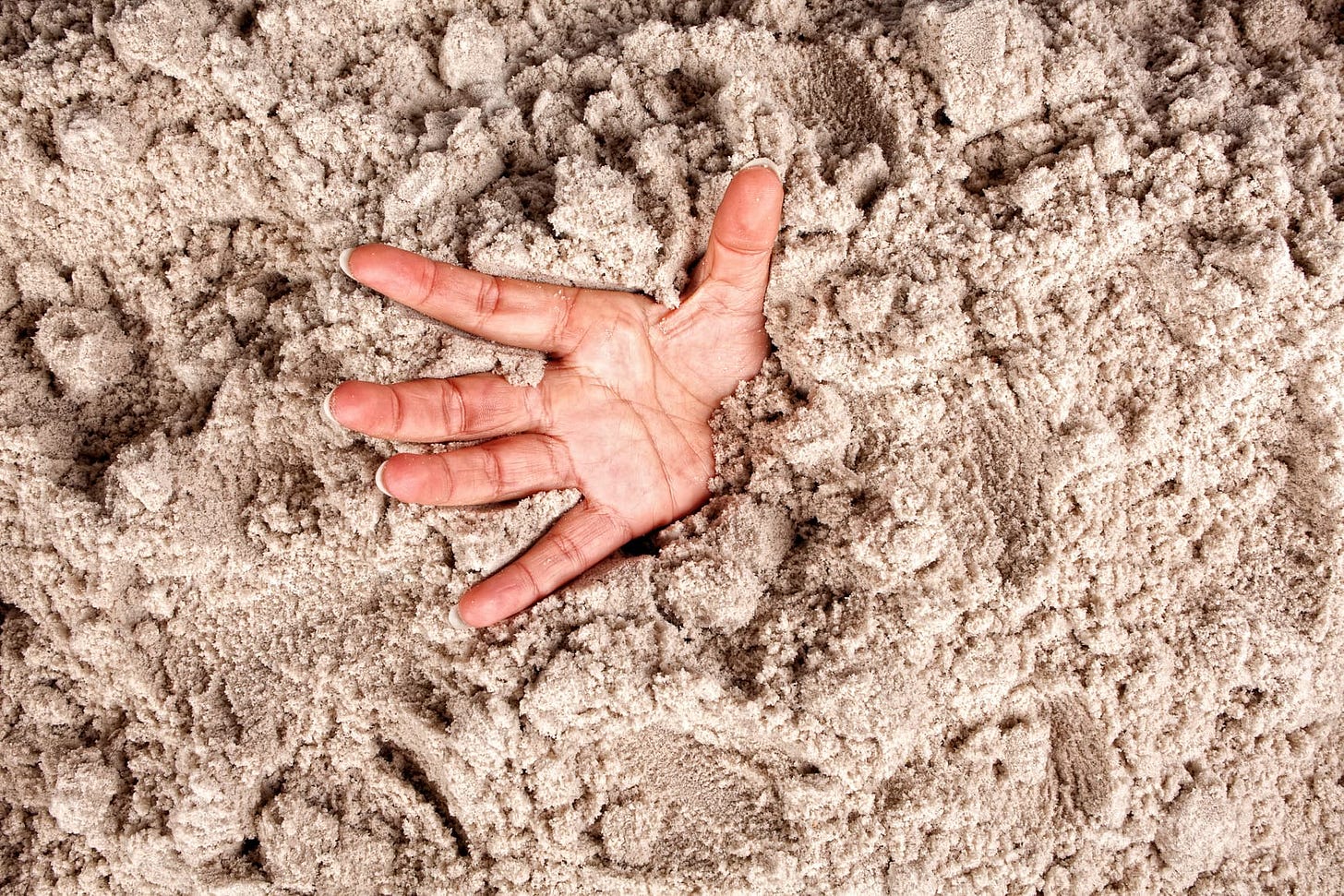 Supreme Court
Brian, if you're reading this, stop reading and go back to work. We're gonna talk some some United States politics. Breonna Taylor, a black woman, was killed by a gang of white police in Louisville, Kentucky. Kentucky's senior United States senator and Senate majority leader is this dinosaur Mitch McConnell. Mitch likes to pose in front of Confederate Flags. Just look at that big smile by happy Mitch.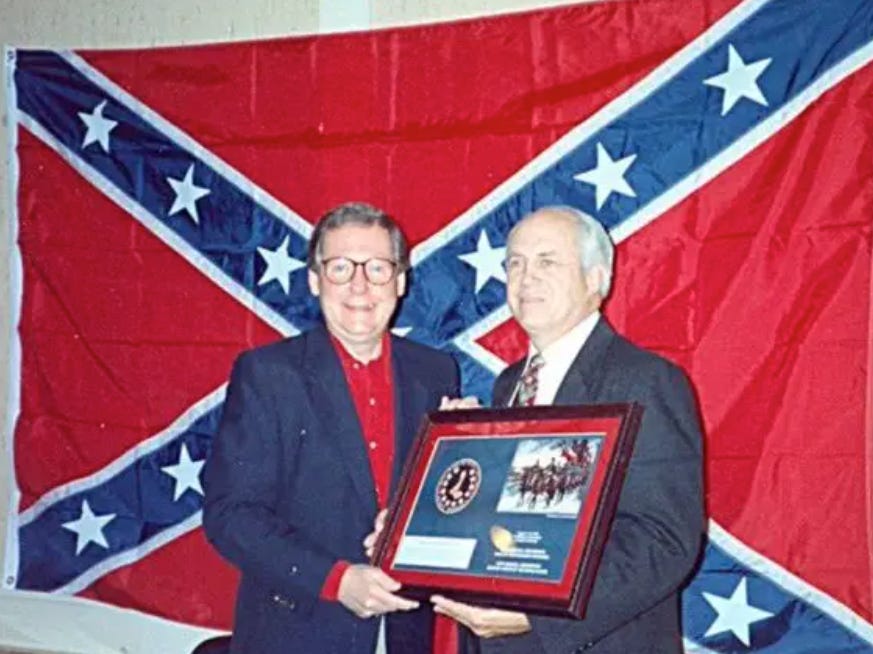 Mitch has a lot of power. Mitch is about to give Trump, an alleged white supremacist, his third Supreme Court Justice pick after the sudden death of RBG, and all his nominations keep getting younger. Mitch represents pretty much everything I hate and fear about Kentucky. These social and political issues will impact generations to come, and they will spill over into the office walls of Coinbase and even into the Slack channels at work. It will impact the hiring, staffing, engineers, international travel, climate, inflation, taxes, gun control, healthcare, women's rights, anti-discrimination laws, and many other areas that impact the bottom line. You can't have a mission of ending global poverty without ending the oppressive forces that force people into poverty in the first place. If your only mission is to make money for shareholders, you will surely fail your mission. If you really want to end poverty, get guys like Mitch out of office and stop letting white supremacists dictate our laws.
IPO Pressure
Coinbase has reportedly 984,300 BTC in their wallets, which is 5.4% of all bitcoin in circulation, and it's likely they will try to IPO in 2021. But then what? Does Brian really care about the people his company is intended to serve? Coinbase is going to learn—the easy way or the WeWork way—that it's impossible to detach your company from culture, and it's impossible to detach culture from our society.
When Obama used to pick his Final Four picks with us live and grieve with us over his pitiful busted brackets, it humanized him. We've been locked in our houses for too many months, we need culture now more than ever. Over the past decade I've been around a lot of companies, good and bad. One thing I know for sure, bad culture will always destroy a good idea, and great culture can almost always save even the worst ideas. Any divestment away from culture is an investment in failure. Any attempt to covertly (or overtly) try to mute the killing of unarmed black people in the streets by police and white supremacists, will just continue to wake up angry and educated pricks like me early in the morning to keep writing newsletters about your racism, ignorance, and bigotry, and Photoshop devil horns to your profile pictures.
Unless tech companies want to build teams of apolitical heterosexual white males with a few token people of color, tech leaders like Brian Armstrong have to get a little more "woke." Our society is culture, and culture fuels the engine that makes a company money. How will Brian and his new direction, against the grain of every major tech company, impact his legacy and the future of Coinbase? The clock is ticking for the Board of Directors (BOD) to reverse this horrible new policy that will surely cripple such a young promising company in the crypto space before its IPO, especially with such tense race relations. Nearly 10% of humans on Earth, over 700 million people, still live in extreme poverty. Coinbase should be leading the fight against poverty, not sprinting away from it.
PS: I don't think Brian is the devil. I'm just having fun in Photoshop. If he reverses this decision to ban all social activism and politics from the workplace, I will attach pretty little angel wings onto his back and send another newsletter. 👼🏼